Private apps have been deprecated since January 2022. To establish the connection, please proceed as follows:
Go to app installation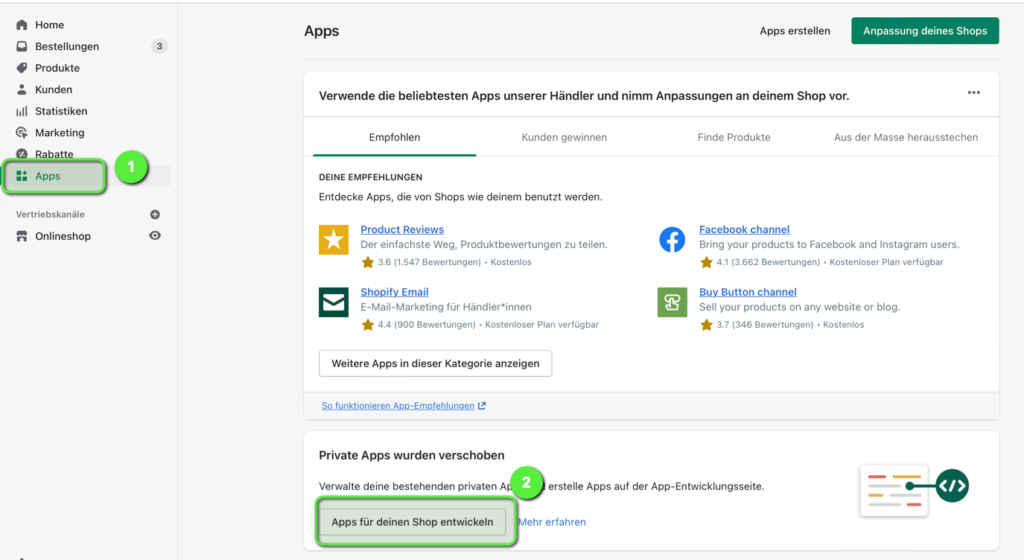 Go to Shopify App Installation
Create new app
Create Shopify new app
Assign app names and select users
Assign Shopify app names and select users
Configure areas to which i2s needs access
Configure Shopify areas that i2s needs access to
Give the following API endpoints READ AND WRITE rights
draft orders
write_draft_orders
read_draft_orders
orders
write_orders
read_orders
Order Changes
write_order_edits
read_order_edits
files
write_files
read_files
inventory
write_inventory
read_inventory
Pricing Rules
write_price_rules
read_price_rules
Product Offerings
write_product_listings
read_product_listings
Products
write_products
read_products
Locations
read_locations
Shipment
write_shipping
read_shipping
Save the permissions and go to the "API Credentials" tab. Install the app and copy the token. This can only be viewed once! Save the token temporarily on your computer – e.g. B. in a text file.
install app
Install the Shopify app
Token is generated
Shopify token is generated
Now switch to the app and enter the data as follows. Be sure to enter "token" as your username! Then our system knows that you are already using the new authentication method.
Shopify Marketplace Settings
You can find more about this in the following help: Marketplace settings
Set Shopify manufacturer as meta field
If you want the manufacturer to be written in a meta field, please do the following.
In Shopify, create a meta field of the "single_line_text_field" type. Enter "Brand" as a name (key), for example.
In the app, store the "Metafeld Key" you just created in the marketplace settings > additional settings using the "Shopify Manufacturer Metafeld" option.
Shopify add-on setting manufacturer meta field
All newly created products are no longer imported with the manufacturer in the "Vendor" field, but the manufacturer names are written in the meta field created for this purpose.