Magnalister configuration
In the following section we explain how to configure Magnalister in combination with Import2Shop.
To do this, please call up Magnalister in your shop system and open the "Global Configuration" tab.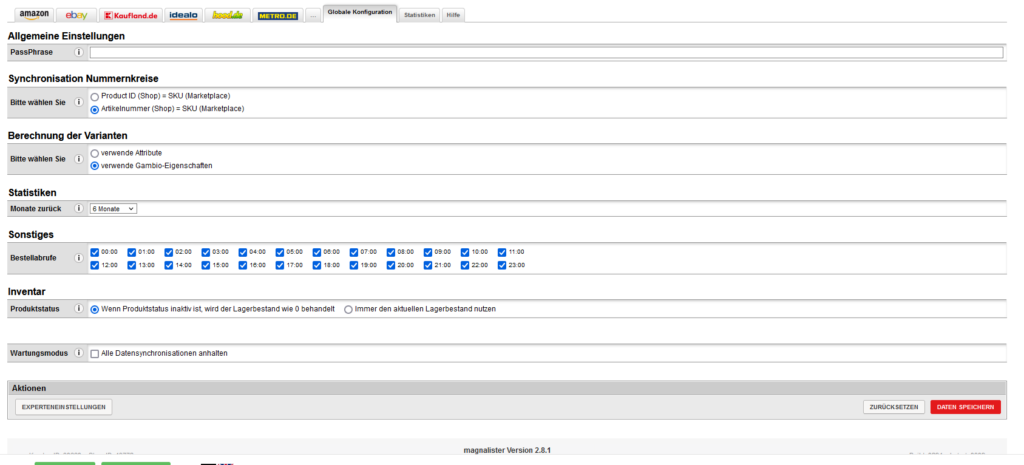 Magnalister Global Configuration
Magnalister – Synchronization Nummernkreis
Magnalister Synchronization Nummernkreis
Please select "Article number (Shop) = SKU (Marketplace)".
This is important if you use the Import2Shop order processing, otherwise the wrong article numbers will be given to us when ordering from the marketplace.
Magnalister – Calculation of variants
Magnalister calculation of variants
When using a Gambio shop, please select the following:
With other shop systems (except Gambio) no setting is necessary here.
In Gambio this is necessary because we import variants as properties.
Import2Shop partner Magnalister
All Import2Shop customers receive the first 2 months free of charge with Magnalister (applies only in connection with a new customer contract with Magnalister).
Simply send us your Magnalister customer number and your Import2Shop customer number to our support email address, with a note on the free 2 months for Magnalister. We will then immediately activate the free months.